My client has not received the Electronic Privacy Form email?
Ask them to check their Junk or Spam folders. It's fairly common for this unknown email address to be categorized as junk mail by the email application.
If they are still unable to find the email use the physical form at the bottom of this article and upload manually.
Quick AF displays an error message when logging me in?
An email address can only be linked to one Mercury CA on Quick AF's username database. If you are seeing this message it means a different CA with the same email address has logged into Quick AF previously.
You will need to contact their support team via support@driveiq.com.au
Quick AF is not automatically logging me in?
To access Quick AF you need to allow 3rd party cookies. This setting can be altered in your browser.
Chrome settings > Privacy and Security > Cookies and other site data
Ensure that 'Block third party cookies' is not selected.
No lenders are appearing in my Quick Quote?
Lender quotes will appear depending on the criteria used. Complete all fields, if no lender results appear you can query this with your Connective BSM or support@driveiq.com.au
What do I enter if the Vendor/Dealership is not yet known?
Just enter 'TBA' to satisfy the field requirement.
I'm unable to login to Quick AF when using Safari?
In Safari go to preferences
In the Privacy tab, uncheck Website Tracking
How can I add a Co Borrower on the Application?
You can only add a Co Borrower or Co Applicant on the application before you submit the application.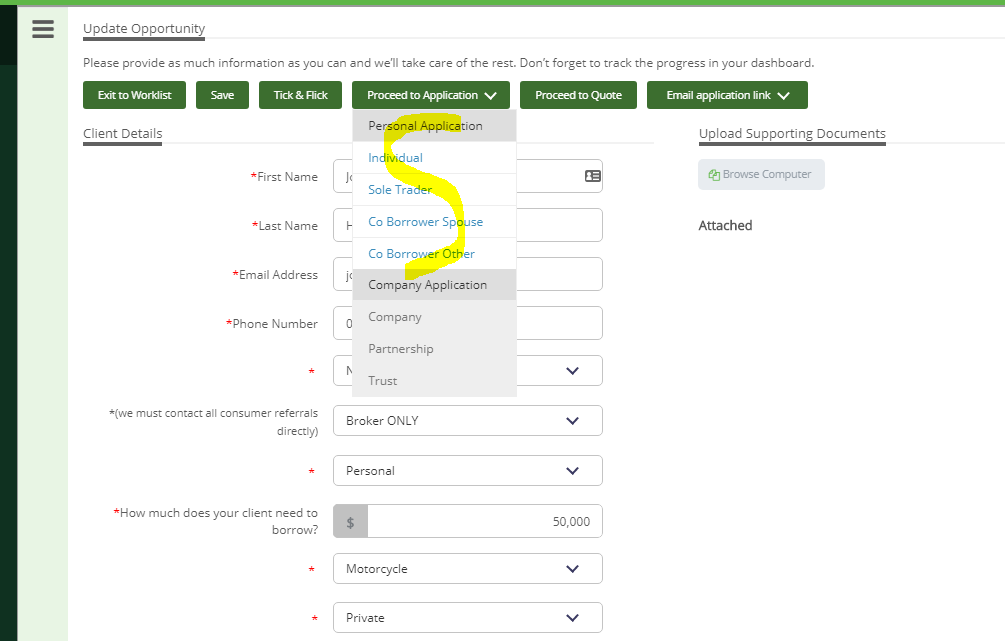 If the application is already submitted adding will not be possible. You will have to create a new application.
Can I make changes to my application after a Tick and Flick or Submission of full application?
No, you will be able unable to edit the locked Quick AF application after submission. Any changes would need to be communicated directly with the AmFin consultant that is processing your application.
What does NAF stand for in the graphs?
It stands for Net Amount Financed. It is the amount borrowed including all fees etc which appear on the loan contract.
Is BOLT still available?
Please note: as of 12 December 2020, BOLT will no longer be available. Connective is pleased to introduce a new asset finance quoting and processing platform called Quick AF, which is now available in Mercury Nexus to all Connective brokers.